PINK MONKEY STRIP CLUB CHICAGO

750 CLINTON AVE

Review by Mr. Goodtimes 7/13/2008 Disclaimer: This is not the offical site of Pink Monkey & represents my own review.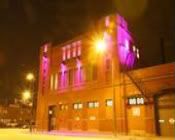 I've always had a zeal for hanging out in Chicago's booming south loop.  Believe it or not, there are still some areas of Chicago which have not been changed by the perils of urbinization. Perhaps, that's why on occasion, I like to party at the city's newest adult venue-The Pink Monkey Strip Club Chicago.  Offically opened for business on May 5, 2008 the club had been in the planning for many years. For me, a big part of a strip club experience is location. Standing out side of Pink Monkey, on the corner of Clinton and Polk streets, awaits a spectacular view of Chicago's ever -changing landscape. I also like this venue because it's one of the easiest strip clubs to find in the city.  From 90

(The Kennedy Expressway) just exit Jackson and head right on Clinton and abracadabra...you've arrived!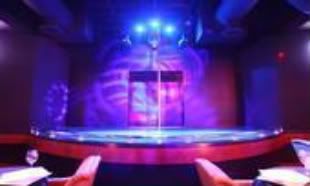 Once inside, take a trip on the club's eccentric elevator to the second level where you will find an enchanting, cozy showroom. One of the first eye catchers will be the ready-to-go musician stage- complete with drums, guitar and keyboard. The club's designers wanted famous bands to have the ability to jump on stage while in Chicago and jam out as they party! I think it's a great idea and have never seen anything like it in a strip club. The show room is dark and comfortable with plenty of topless, smiling strippers. In fact, because the club is so mellow, dancers will frequently chill out with  visitors while sipping on a cool drink.  I like to think of Pink Monkey more as an exotic show lounge because it's small, quaint and elegant.  Maxium capacity is only about 200 people but it works perfectly!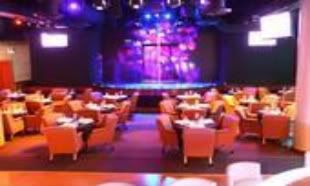 According to Bob, one of Pink Monkey's owners-"The concept for the club was to provide Chicago with a burlesque style show lounge and a dash of American Geisha flare." That sounds about right when describing the feeling I get when I'm partying at unique this venue.  You will also notice several, white, private tropical cabanas at rear of the club. Pink Monkey immulated the cabana lounge from Mandalay Bay in Las Vegas.   For $250.00, visitors can rent a private cabana and chill in seclusion all night.  Pink Monkey is a B.Y.O.B. establishment but alcohol can easily be purchased and brought into the club from an attached liquor store. The only draw back is... that for whatever reason; the club does not allow beer in the building.  Luckily, I'm a gin drinker!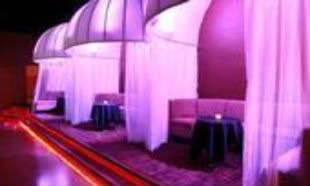 Hidden directly behind the  main  stage, strewn across a long hallway are the private dance areas.  The rooms are comfortable, quiet and allow for complete privacy.   All though the private rooms are not as ornate and secluded as Scores or Atlantis, the experience is still tantalizingly erotic!  Pink Monkey also has a fun VIP area in the back of the room. I haven't chilled out in this area but I like the set up.  The VIP room has separated seating areas where visitors can enjoy private dances  by one of the club's many sexy dancers and still keep an eye on the show.
The owners also like to bring in big names as part of the overall adult entertainment experience. Make sure to call the club to see what famous celeb is visiting next. Hot Bodies such as Carmen Electra and the Asian Sensation Telia Tequila have recently performed.

Oh and I can't forget the food! Oh my, the food!  Pink Monkey has a 5 star dinner menu and the meals prepared by the club's chef are nothing less than succulent.  Steak, chicken, calamari are but just a few of the truly wonderful dishes available. It is nice to see more and more club's combining a cabaret style show with a fine dinning experience.

General Information:

Club is open from 2pm to 4am daily-closed on Sundays.

Entry is $30.00 per person at the door.

B.Y.O.B (Alcohol can be purchased at attached liquor store)

Private dances $30.00

I am hoping to write a review on each Chicago Strip Club by the end of 2008. as it takes time to gather historical info.

If you wish to receive an email for future listings-
Email
me at the Chicago Strip Club List