ATLANTIS STRIP CLUB

1897 E. Lincoln Hwy

Ford Heights, IL 60411

According to legend, Atlantis was a lush, beautiful island, sunken by an earthquake in 1500 BC.  Perhaps if Plato were alive today he would agree that this mythical civilization was never really lost; it just moved to Chicago's South Suburbs in the form of a posh strip club! Simply stated, Atlantis is the most majestic and impressive building I've seen anywhere in Chicagoland! Approximately 25 min from White Sox Baseball park, off 394 and close to the Indiana border- you will find the lost civilization of Atlantis! What a place to party! Disclaimer: This is not the official site of Atlantis and purely is meant as a personal review.

Created 7/1/2008

WRITTEN by Mr. Goodtimes

Many visitors stand outside this swanky building in complete awe of the club's beauty and sheer size.  Built from the ground up on pure Midwestern farm land, the 20 thousand square foot building began construction in 2003.  The architect Lynn Hasting along with owner Marc Valli wanted to build a spot that was completely different from anything in Chicago. After a few years of intense construction, Atlantis opened its doors to the public on March 26th 2007!  Once inside Atlantis, one gets the feeling of having left the south side and been magically transported to an ancient adult playland. The club's lobby is set in black sparkling granite- complete with a large shark filled aquarium behind the cashier. Step foot in the main showroom and behold the amount of friendly stunning dancers in nearly every corner of the room.  The strippers are every bit as attractive as those found at
Admiral
and
Scores
.  Atlantis is also just a stone throw away from
Club 390
.
In my opinion, Atlantis is more than just a place to have a beer and watch dancers. Besides its ornate and fascinating design, the service at this spot is of the highest quality and you can expect to be greeted with a friendly smile. The club's owner Marc  put years of  thought and creativity into creating this truly epic adult club. With a keen interest in Greek mythology, Marc designed the interior to be large and comfortable with an emphasis on fantasy and pleasure. " I wanted to provide something Unique for people in Chicago," explained Marc. Over the years I have been fortunate enough understand Marc's adult club philosophy and I can vouch first hand that he cares an awful lot about the overall experience of his guests. If you are wondering about what the dancers are like at Atlantis-don't worry, you won't be disappointed!  The club has a deep bench of exotic beauties for your enjoyment. The girls dance topless on stage but completely nude in the private rooms!  The compliment of dancers range in ethnic diversity so it won't be hard to spot someone you like on one of the club's 5 stages!

I'm also impressed with the nice selection of beer, wine and champagne at Atlantis. Visitors can often be seen sipping on a bubbly glass of Cristal while enjoying the show. Personally, I like a gin and tonic and trust me, Atlantis probably has what ever your preference is in drinks!

Probably the most unique feature in Atlantis is the dance rooms.  Unlike most adult clubs which have booths, Atlantis boasts 24 mini rooms for your enjoyment. Each area is quaint, intimate and discreet.

Take a ride on the elevator to the second floor and check out the private room built just for large parties! The 2nd level is perfect for seeing the entire club or just chilling out with one of the girls.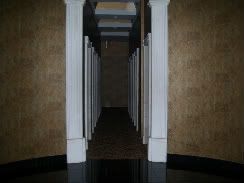 I might also suggest that if you are planning on visiting Atlantis to save some room for dinner! You will not find a better place anywhere in the immediate area for better food-SERIOUSLY! Atlantis has their own chefs and prepare some of the best Italian food I've ever tried. You might have a hard time figuring out what to eat because of the rich selection of scrumptious food on the menu. The Tilapia and Calamari are as tasty as any upscale, fine dining establishment downtown. Lobster tail, Steak, Double Baked potato are all for the asking!  Hell just a plain burger is a delicacy here!

Monday-Friday 3pm to 4am

Saturday 7pm-4am

Expect it to be a little busier on Friday and Saturday nights but that's pretty much everywhere.


I am hoping to write a review on each Chicago Strip Club by the end of 2008. as it takes time to gather historical info.

If you have a unique story about Atlantis or any other Chicago Strip clubs, drop me a line!